Course Fees for Transcendental Meditation
Our course fees cover the full six-month programme, teaching you the technique and helping you become thoroughly self-sufficient in the practice of Transcendental Meditation.
Standard fees
We'll give you as as much personal attention as you need to be confident in meditating. There are many different payment methods available and it's also possible to pay with instalments
£590: individual income over £40,000 pa
£490: individual income over £25,000 pa
£390: individual income under £25,000 pa
We offer a 15% discount on the combined fees for couples.
Once a course has commenced refunds are not possible.
Concessionary and student fees
£290 (concessions: students aged 18 and over in full-time education, registered unemployed, state pensioners, and cases of special need)
£190 (ages 10-18 in full-time education)
Please feel free to discuss individual circumstances with your local teacher, who may be able to offer scholarships in exceptional cases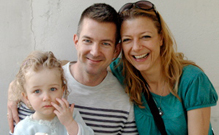 Learning fees for families and children
Under 18s living at home can learn transcendental meditation FREE.
One parent is required to be practising Transcendental Meditation before their child learns or they will need to learn at the same time.
Each parent pays the fee appropriate to their own income (see standard fees, above)
Children under 10 learn a technique specially suited to their stage of development. If they are not learning at the same time as their parents, the fee is 25% of the appropiate adult fee
Tailor-made courses and group rates
We can also quote for private instruction, groups, and in-house courses for business and educational institutions. Please contact us for details.